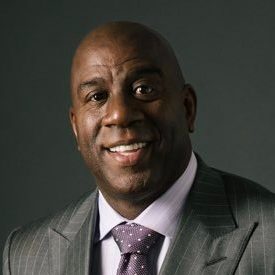 Mr. Johnson is the chairman and chief executive officer of MJE. Since retiring from the NBA over 20 years ago, the legendary basketball star has morphed into a business powerhouse who has dedicated his life to leaving a positive impact in underserved urban communities.
Having left the basketball court for the boardroom, Johnson parlayed the skills and tenacity he acquired on the court into a winning formula for successful business ventures.
In his early years as an entrepreneur, he forged an alliance with Sony Pictures to develop Magic Johnson Theatres. In 1998, he teamed with Starbucks to become the only individual joint venture partner in the history of the company, acquiring and eventually selling 125 stores. Both ventures served as catalysts for redevelopment in urban communities, and are widely recognized as the corporate blueprint for engagement and success with urban consumers across America.
Mr. Johnson made history in 2012 when he became co-owner of the Los Angeles Dodgers, a Major League Baseball franchise. He also co-owns the Los Angeles Sparks of the WNBA and Major League Soccer's Los Angeles Football Club.
Johnson continues to expand his influence through a number of other investments. He currently has controlling interests in EquiTrust, a $19 billion life and annuity business, ASPiRE, an African-American television network, and SodexoMAGIC, a food service and facilities management company.
The Lansing native is constantly evolving and remaining relevant in a dynamic digital age by broadening his scope into infrastructure and technology. His technology endeavors include a mobile payment company that supports small businesses and entrepreneurs. Likewise, operating under the philosophy that true success is making others successful, he is also one of the leading investors in a number of minority-owned tech companies that include Jopwell, a diversity and hiring recruiting platform, and Walker & Co Brands, a company that develops health and beauty products for people of color. He is deliberate in his investment strategy to bring positive impact to the community.
Remaining true to his humble Lansing beginnings, he is unwaveringly dedicated to working with major corporations and partners to bring jobs and high-quality products and services to underserved communities.
Mr. Johnson and the broader Magic Johnson Enterprises platform works closely with the investment team to further JLC's pursuits. His successful track record in investing in communities and favorable public image provides JLC with a competitive advantage.