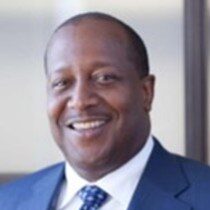 Mr. Holoman is the operating partner of MJE and oversees the company's day-to-day operations of its largest portfolio companies including acting as president of EquiTrust Life Insurance Company, MJE's $19-billion-dollar life and annuity business, managing director of JLC, and managing director of the award-winning television network, ASPiRE.
Prior to joining MJE, Mr. Holoman held several positions in private banking with Bank of America and as the head of the private mortgage bank with Wells Fargo Bank. Mr. Holoman has been active in public service, having previously served on the board of administration of the Los Angeles City Employees' Retirement System which included two terms as president, and served as the chair of the investment committee that oversaw the investment strategies of a $12-billion-dollar investment fund. More recently, Mr. Holoman served as vice president on the board of the Los Angeles Department of Water and Power, the largest municipally owned utility in the country, where he served as chair of the economic development, investments and contracts committee.
Mr. Holoman holds a degree in Finance from the University of Southern California ("USC") and is a member of the board of leaders for the Marshall School of Business at USC.
Mr. Holoman is actively involved in shaping the strategic direction of JLC. Mr. Holoman is also actively involved in JLC's investment pursuits by leveraging his strong relationships with government and community leaders across the U.S. and relationships with potential strategic partners.