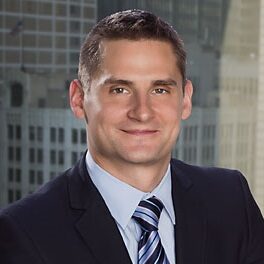 Patrick Ripley has approximately 20 years of experience advising businesses, investment firms and legal teams on financial and valuation matters.
His efforts have supported transactions, litigation and forensics, restructuring, bankruptcy, regulatory and strategic planning.
Prior to joining Loop Capital, Mr. Ripley held senior-level positions at financial advisory and global accounting firms. His financial advisory experience focused on providing fairness and solvency opinions and financial expert reports. The opinions were in support of transactions relating to divestitures, leveraged recapitalizations, sale-leasebacks, tender offers, related-parties, and expert witness reports. Mr. Ripley spent approximately ten years at global accounting firms where he specialized in providing financial reporting, tax and strategic planning valuations for closely-held and publicly traded domestic and international businesses. He has significant experience leading teams in valuing businesses, business interests, financial instruments, intangible assets and liabilities. Patrick began his career in dispute advisory, where he concentrated on quantifying economic damages and lost profits related to corporate fraud.
Mr. Ripley has lived overseas (Europe and Asia) working directly for member firm offices and on international projects. Additionally, he has served as a member and treasurer on boards of directors for non-profit organizations in Chicago. Patrick received his B.S. in Finance from the College of Business at the University of Illinois, Champaign-Urbana and is an Accredited Senior Appraiser (ASA) of the American Society of Appraisers. Mr. Ripley has earned the right to use the Chartered Financial Analyst (CFA) designation.