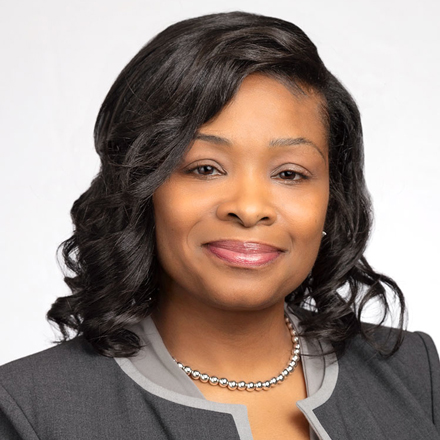 Tasha Henderson is the Chief Financial Officer at Loop Capital. Ms. Henderson is responsible for managing day-to-day firm administration, infrastructural growth, accounting and financial planning and analysis and reporting across Loop Capital's various business lines.
Ms. Henderson serves on the firm's Management, Risk and 401K Investment Committees.
Ms. Henderson, who began her career at KPMG LLC, possesses more than 20 years of experience in the financial services industry. Her in-depth knowledge and experience includes fund administration, nonprofit and financial markets accounting, partnership, corporate tax and auditing.
Ms. Henderson is a member of the American Institute of Certified Public Accountants, the Illinois CPA Society, SIFMA Regulatory Capital and Margin Committee and is a Chicago Urban League IMPACT Leadership Development Program Fellow. Additionally, she serves as Vice Chair of the Board of Trustees and chairs the Sustainable Financial Model Committee at St. Xavier University. She is also a member and serves on the board of the Chicago Finance Exchange.
Ms. Henderson has a Bachelor of Science in Accounting from Hampton University. She received her Certified Public Accountant designation in 2001, her Chartered Global Management Accountant designation in 2012.
She holds 27, 28 & 99 licenses.